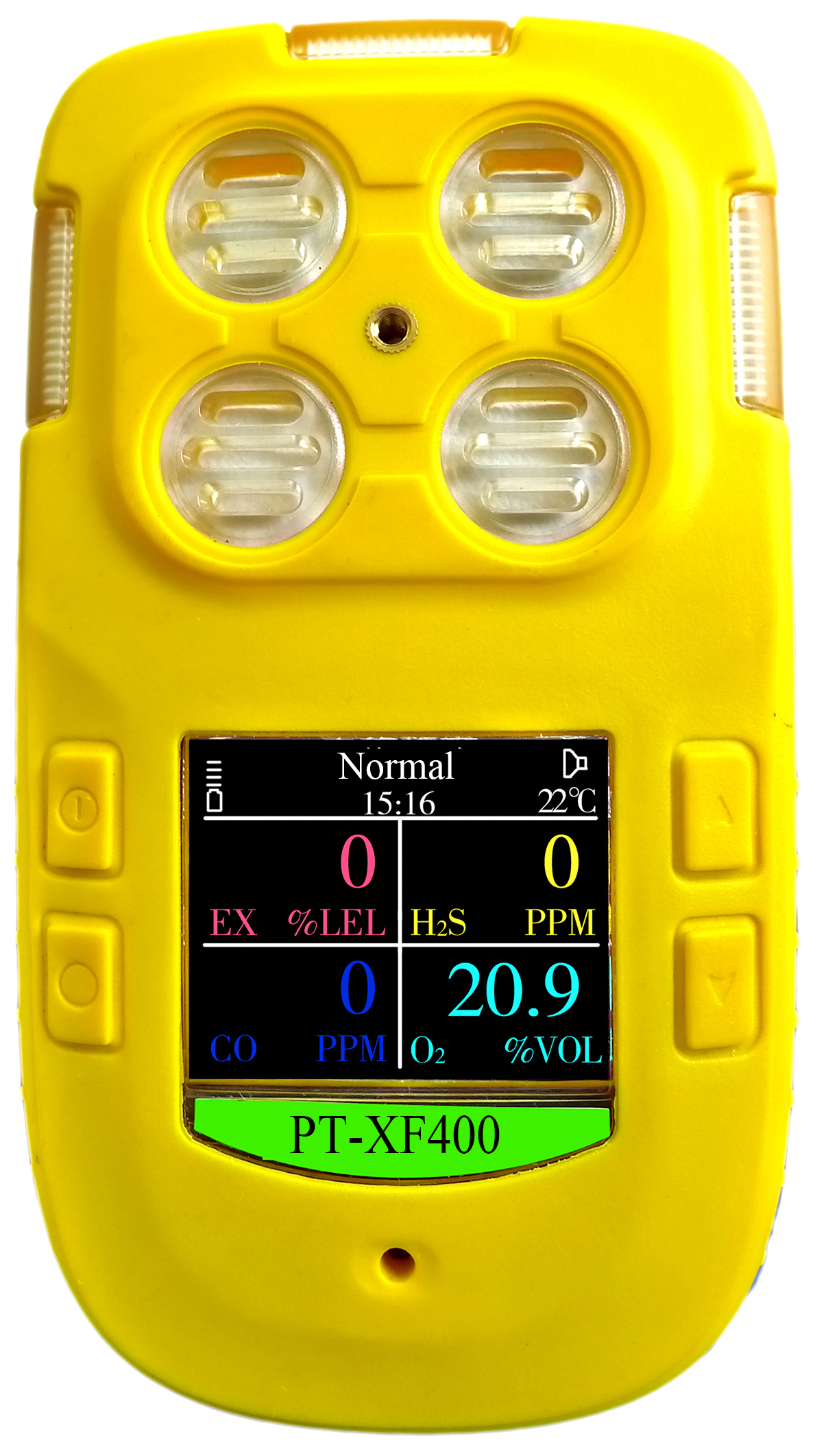 1 Product description:
Portable multi-gas alarm is a continuous detection of multi-gas (combustible gases, oxygen and toxic gases) concentration, easy to use personal protective gas detector. The color OLED display shows the measured gas concentration and other information. The decibel buzzer, alarm indicator and vibration alarm indicate that the current gas concentration has exceeded the set alarm point.
2 Features and benefits: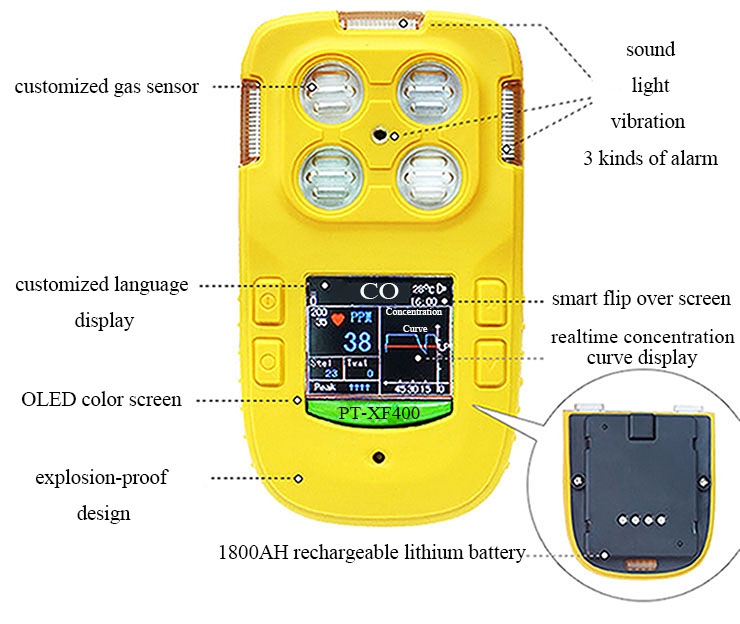 The color OLED display continuously displays the gas concentration in real time

Automatic zero adjustment and calibration function

Automatically start full-function test (including sensor fault detection) when power on

Gas concentration curve browsing function, intuitive and convenient (optional, factory settings)

The screen display content can be flip over (optional, need to customize)

Event record function (optional, to be customized)

Detection of toxic gas types can be set (optional, to be customized)

Sound, light, vibration 3 kinds of alarm

Rechargeable lithium-ion polymer battery design

Explosion-proof design
3 Gas types and measurement range:
A Gas types:
| | |
| --- | --- |
| Combustible gas included | Oxygen, CO, Combustible gas, H2S |
| Carbon dioxide included | Oxygen, Carbon dioxide, Carbon monoxide |
| Toxic gases can be replaced with | Ammonia, Sulfur dioxide, Chlorine, Ozone, Nitric oxide, Nitrogen dioxide, Hydrocyanic acid, Phosphine, Hydrogen and other gases (to be customized) |
Please be noted: Oxygen and combustible gases are not replaceable
All types of gas can be closed as a separate channel.
B Measurement range:
| | | | | | |
| --- | --- | --- | --- | --- | --- |
| Gas types | measurement range | Gas types | measurement range | Gas types | measurement range |
| Carbon monoxide | 1000 μmol / mol | Hydrogen | 1000 × 10-6 | Combustible gas | 100% LEL |
| Hydrogen sulfide | 100 × 10-6 | Ammonia | 100 × 10-6 | Chlorine | 50 × 10-6 |
| Oxygen | 30.0% | Sulfur dioxide | 100 × 10-6 | phosphine | 10 × 10-6 |
| Hydrogen cyanide | 30 × 10-6 | Ozone | 1 × 10-6 | Nitrogen dioxide | 50 × 10-6 |
| Nitric oxide | 100 x 10-6 | Carbon dioxide | 5.0% | | |
4 Technical parameters:
Battery type

Lithium-ion polymer

Battery parameters:

Rated voltage 3.7V, nominal capacity 1800mAh

Working current:

Normal current: ≤ 100mA

Alarm current: ≤190mA

Explosion-proof grade

ExdibIIBT3 Gb

Sensor type:

Carbon dioxide

Infrared

Combustible Gas:

Catalytic combustion

Oxygen

Galvani an Battery

Toxic gas

Electrochemical

Detection method:

Diffusion type

Response time:

Carbon dioxide:

T90 <30s

Combustible gas:

T90 <30s

Oxygen:

T90 <20s

Toxic gas:

T90 <60s General

Full charge continuous working hours:

≥14 hours (including combustible gas)

≥48 hours (excluding combustible gas)

Error:

Carbon dioxide:

± 0.1% (volume ratio)

Carbon monoxide:

± 10%

Hydrogen sulfide:

± 5% FS

Combustible gas:

± 5% FS

Oxygen:

Soil 3.0% FS

Other toxic gases

± 10% (display) or ± 5% (full scale) within, take large

Working Environment:

Temperature: -20 ℃ ~ 40 ℃

Relative humidity: 15% -95%,

no condensation

Storage environment:

Temperature: -20 ℃ ~ 60 ℃

Relative humidity ≤ 90%, no condensation

Charging temperature range:

0 ℃ ~ 40 ℃

Protection class:

IP65

Material:

PC, ABS, anti-static TPE

Dimensions

130mm × 72mm × 36mm

Weight:

310 grams
5 Application:
Oil &Petrochemical Metallurgy
Chemical industry Environmental protection
Papermaking Printing and dyeing Municipal
Research &Education National defense